With PowerPTC, it is possible to have guardians & parents schedule with faculty members who are not directly tied to their student's schedule.  This feature, called Open Scheduling, can come in handy if your district would like parents to be able to schedule Parent-Teacher conferences with counselors, principals, deans, activity directors, coaches, department heads, etc.  Open Scheduling is another way to keep parents involved with their student's extracurricular activities as well as with their educational development.
In order for this feature to be utilized, the faculty member must be included in the "Teachers" file that is uploaded to PowerPTC from your student information system.  If they are not present in your student information system, they can be manually added to the file prior to upload.  Open Scheduling is configured when creating a Meeting Place for the faculty member.
In PowerPTC, if you would like to create a Meeting Place with Open Scheduling enabled, you would perform the following steps:
From the PowerPTC home screen, click on Configure.
In the left-hand menu, select Meeting Places.
Configure the Meeting Place like you would for any other Teacher, after saving the item, click on the edit icon for the Meeting Place and click on the Advanced tab to check the box next to Open Scheduling.
Enter a Description that you would like to be visible to guardians for this Meeting Place.  It helps to be as descriptive as possible, so it is recommended that you include the person's title, like "Freshman Baseball Coach", "Dean", etc.
When a parent or guardian schedules their appointments, they would then see the available Meeting Places with Open Scheduling enabled at the bottom of their page, as shown below.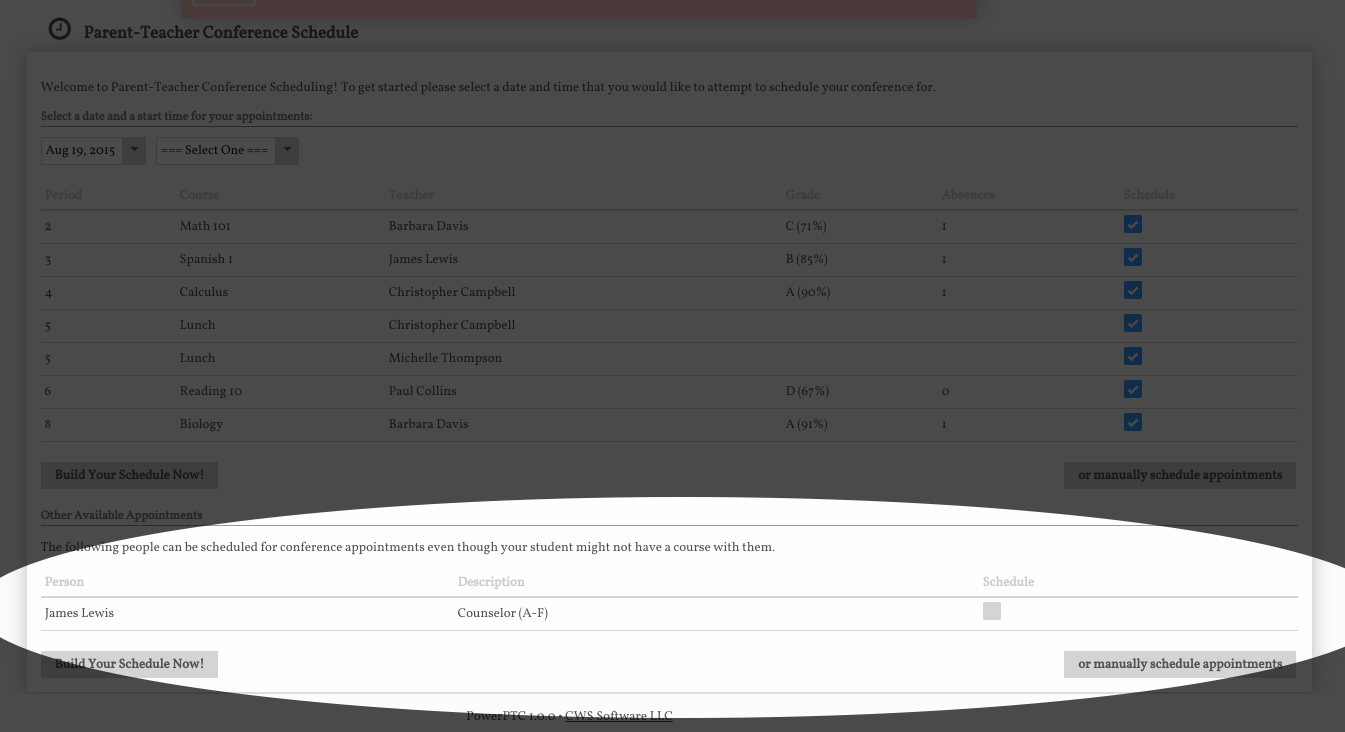 It is also possible for a Teacher with a regular course schedule to be configured for Open Scheduling. In this instance, they would show up on a student's schedule as well as being available for all other guardians to schedule with.
For more information on PowerPTC, please view the PowerPTC product page.  To give this feature a test drive, head over to https://powerptc.net to sign in or to create your account today!