There are many challenges when it comes to hosting parent-teacher conferences during Covid-19. PowerPTC can assist in making your parent-teacher conferences a success despite the unknowns that districts are facing. We've recently released updates to PowerPTC to help improve your conferences during these challenging times, including:
Phone Conference Support – It is possible to allow Phone Conferences on a individual staff member basis. When configured, this allows a parent to call a phone number when it is their time for conferences, with the option to also provide a pin or passcode. With Phone Conference support, PowerPTC doesn't provide the infrastructure to make the calls, this is typically done using your organization's phone or PBX system.
Video Conference Support – Video Conferences can also be enabled on a per staff member basis. Video Conferencing allows the parent to connect to a video conference via a web address or URL and password or pincode. As with Phone Conference support, PowerPTC doesn't provide the infrastructure to host the meetings, as this would typically be done with district's native video conferencing solution (ie: Zoom, Google Meet), but does allow for the input and sharing of video conference URLs.
Disallow In-Person Conferences – With the ability to host Video and Phone Conferences, we've added the ability to disallow the ability to host In-Person Conferences. As with the other conference types, you can enabled or disable in-person conferences on a per staff member basis.
Multiple Conference Types – You can allow for multiple conference options for your organization. You offer your community members the flexibility by allowing both Video or Phone Conferences (while disabling In-Person Conferences for example) and the guardian can select their preferred method.
Default Conference Type – With support for multiple conference types, it is also possible to define a default method, and once again this can be defined per staff member.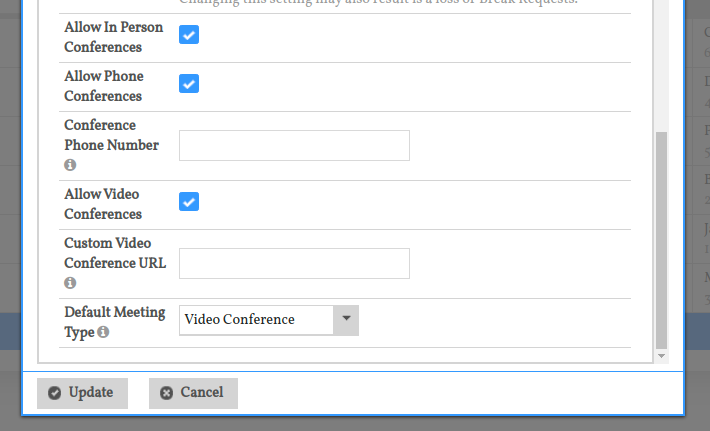 We are here to help and wish be an effective partner with your district or organization during these trying times. Please reach out to us and let us know how we can assist! Be well and stay safe!